5 Tips for Adding a Sunroom to an Existing Home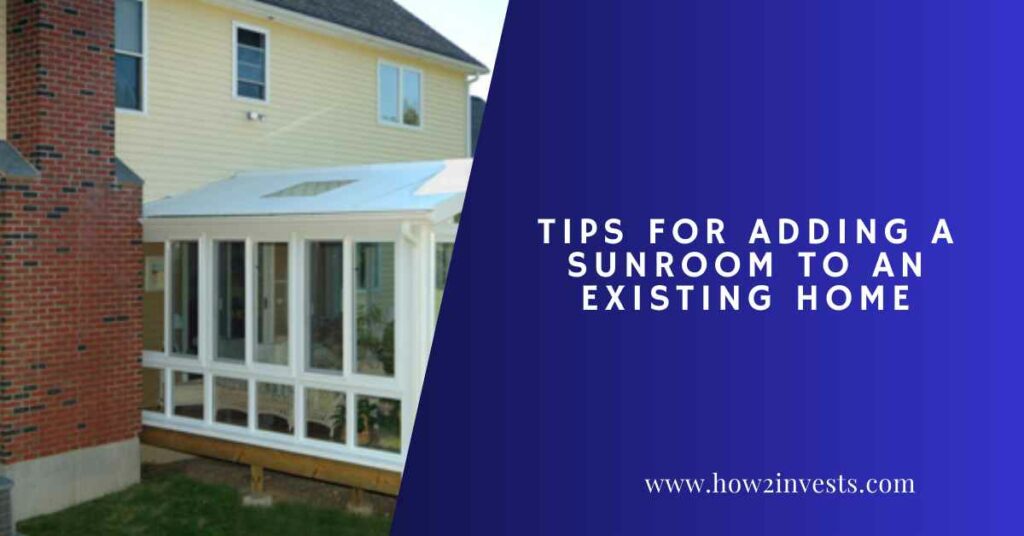 Adding a sunroom to an existing home provides additional living space and allows homeowners to enjoy the outdoors while limiting their exposure to the elements. Well-designed and maintained sunrooms can also increase property value.
This makes the addition worth considering if you're looking for a worthwhile home improvement project. Here are five tips for adding this feature to your home:
1. Hire a Professional
When building a sunroom, you may need to make structural adjustments to your home and change elements like plumbing and wiring. Without proper training and experience, these changes could inadvertently cause drainage problems or compromise your home's integrity.
Find a reliable remodeling professional to handle the construction of your sunroom for optimal results. A sunroom expert can help design, manufacture, and install your new addition following national building codes.
2. Set a Budget
Set your budget early to avoid spending beyond your financial means. Assess your income and savings to determine if you can afford a sunroom out of pocket. You can also look for a contractor that offers affordable financing options for their sunrooms.
Your budget will define the scope of your sunroom project. It will help determine the materials used and the features included.
When considering your budget, your contractor may recommend vinyl instead of wood, which is often more affordable. The contractor can also help you find personalized solutions to match your home's style and allow you to complete your project without compromising your financial goals.
3. Determine the Purpose of Your Sunroom
A sunroom can be used for many purposes, including as a family room, living room, or an office. Discuss your intended use for the space with your contractor. This can determine how and where to construct your sunroom.
If you want to use your new addition as a family or entertaining room, you may need a larger sunroom than if you intend to use the space as an office or art studio. If you plan to use your sunroom as a dining room, adding it near your existing kitchen can help boost its functionality.
Determining your purpose for the sunroom can also make the design process easier for you and the contractor. It can help when discussing the size, style, color, and accessories needed to meet your needs.
4. Choose a Suitable Location
When choosing your location, consider factors like your landscape, the sunroom's purpose, and the sun's orientation to enhance your sunroom's functionality. Add your sunroom to the side of the house that offers the best landscape view for enjoying nature. Consider accessibility if you plan to use the sunroom as an entertaining space for your guests. In this case, you could attach the extension to a main portion of your home, like your living room or kitchen.
Consider the sun's orientation if you enjoy watching sunsets and sunrises. You can position your sunroom on the west side of your home if you enjoy sunsets or the east if you enjoy sunrises. If you want to watch both, consider a longer sunroom with east and west views. Discuss your expectations with your contractor to get suitable location recommendations.
5. Determine How Often You Plan To Use Your Sunroom
Determining how often you plan to use your new addition can help you choose an ideal type of sunroom. The most common types are three-season and four-season sunrooms. A three-season sunroom is suitable for summer, spring, and fall when the weather is relatively mild. This type of sunroom is designed to maximize ventilation and sunlight. This allows you to enjoy the changes that come with the three seasons.
A four-season sunroom is designed for year-round use, meaning it remains functional even during the winter. To enhance comfort, contractors incorporate heating and insulation elements like multi-pane windows and insulated floors. This type of sunroom may be suitable if you want to enjoy the beauty of winter without compromising your health and comfort.
Follow These Tips When Adding Sunrooms to Your Homes
Sunrooms are versatile additions and can be used for almost anything, from reading and working to entertaining and dining. If your current indoor space doesn't meet your needs, consider adding a sunroom. Hire a professional sunroom contractor and follow the above tips to create a functional addition to your home.