How To Invest In Stocks For Beginners? – Latest Guide In 2023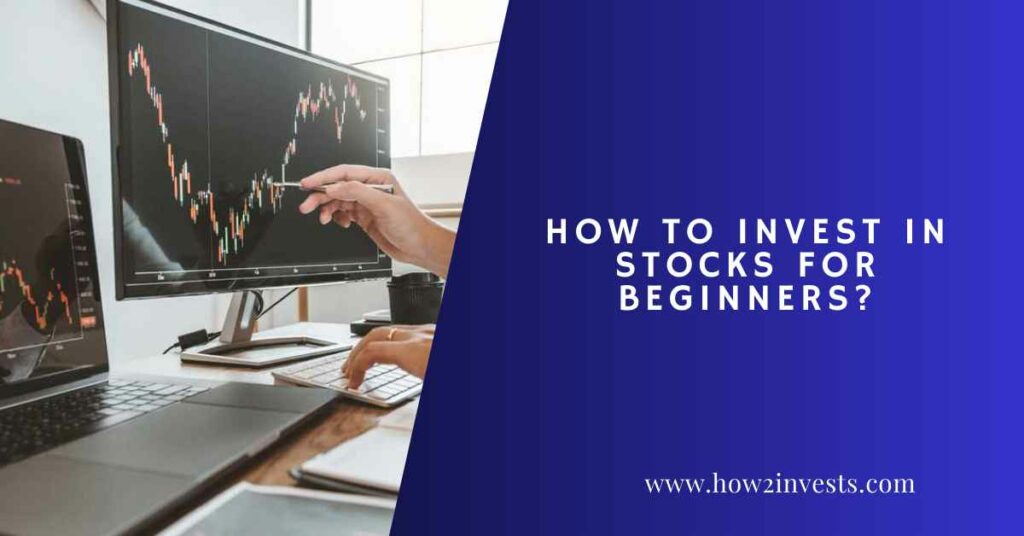 Are you a beginner thinking of making money? Stocks will be your best choice to build wealth by investing. Buying stocks will be pretty straightforward, only if you read this article till the end!
As a beginner, you can start stock investing by opening an investment account like "Brokerage or individual account" after determining your budget, risk tolerance, and portfolio management.
Let's Learn the basic Steps so that you might not be a beginner anymore in the vast stock investment market!
Table of Contents
Easy Steps For Investing In Socks For A Beginner – Must Check Before Starting!
Firstly, Determine your budget and how much you can invest in stocks.
Net worth. This number can give you an idea of where you're financial. And will allow you to get a "big-picture" of your financial health.
Your income after paying tax: To help you create a realistic investment strategy for your budget. It is required to know How much money you're working with after paying the taxes.
Your expenses. This Determines Each month how much you have left over. Can we reduce or cut some costs?
Overall debt. You have to check your debt before investing in stocks because it might be difficult if you have issues during a stock investment.
Risk tolerance. It means that How much risk can you easily take while investing in stocks? Calculating this will give you a clearer idea of what you can afford to lose.
Your Budget is An essential step for the beginning of investing. Now let's look at the next step, choosing how your investments will be managed, directly affecting your future in stock.
Later on, Choosing your investing approach for your stock investment is necessary:
A professional broker can be the right choice to help you make better investment decisions: You make sound investment decisions, check your portfolio, and make stock changes with the help of an experienced financial advisor.
This is a good option for beginners who want to spend just a few minutes and have limited investing knowledge. They understand the importance of investing but want an expert to help them do it.
Using a cost-effective Robo-advisor Program for beginners might be beneficial: A Robo-advisor is another solution and an option that typically costs less than working with a broker or financial advisor.
It is An automated program to manage your money using the same decision process as a human advisor might but at a much lower cost.
You can set up an investment plan quickly, and then you'll need to deposit money, and the robo-advisor does the rest.
As you have selected your managing technique for your investing future, let's dive into the world of different investment accounts that might be necessary.
Next is to Open an investment account for buying stocks – Different types of accounts, select according to your strategy!
To allow you to buy and sell various investments. A brokerage account is here for you to do that. These investments may include stocks, bonds, mutual funds, and ETFs.
Whether setting aside money for the future or saving up for a big purchase, you can use your funds whenever and however you want.
The two most common retirement accounts are 401(k)s and individual retirement accounts(IRAs)
The 401(k)s is only available from an employer, while anyone can open an IRA at an online brokerage or a robo-advisor.
These accounts often offer tax advantages that incentivize you to save for retirement but also come with annual contribution limits. Other retirement account types include 401(b)s, SEP-IRAs, and solo 401(k)s.
Suppose you have selected your account, which is excellent. But there is a technique that you need to know, which is a portfolio that helps you manage your financial assets.
Last but not least, Managing your stock portfolio is essential:
In the stock market, a collection of financial assets, such as stocks, is called a portfolio.
Now it's time to start managing your portfolio. You must begin buying stocks, ETFs, or index funds with their appropriate codes from your account.
Diversify(Including various things) your portfolio by investing in different stocks. A buy-and-hold strategy is typically better for beginner investors.
Above all, you must rebalance your portfolio at least once a year. With time, stocks, bonds, and cash investments will shift. Rebalancing is resetting that to the proportion you want.
Investing money and rebalancing your portfolio will help keep your investments in good shape.
After you have completely understood the steps for starting your investing future. Below are some tips for you that will help you to make better progress in stock investing
Top 6 Tips For Beginners who started investing in Stocks!
Avoid Individual Stocks if You're a Beginner: Be realistic about returns, and consider index funds, mutual funds, or ETFs instead of individual stocks.
Create a Diversified Portfolio: Utilize index funds for immediate diversification, and ensure your investments are spread among different industries.
Be Prepared for a Downturn: Handle losses by diversifying and preparing mentally for market fluctuations.
Try a Stock Market Simulator Before Investing Real Money: Use virtual dollars to practice without risk and overcome overconfidence.
Stay Committed to Your Long-term Portfolio: Focus on the long term, avoid daily news cycles, and manage emotions by evaluating your portfolio infrequently.
Keep Investing Over Time: Build wealth by adding money to your investments regularly, and consider automatic transfers and investments for consistency.
Frequently Asked Questions!
For the first time, how much money should you invest in stocks?
Technically, no minimum money is needed to start investing in stocks. But to start, you might need at least $200 to $1,000. Most brokerages have no minimums to open an account and start buying stocks.
What is the best trading strategy?
For investing in stocks or other assets, Buy And Hold technique is one of the most popular trading strategies. Because it is famous for its slow but steady gains
What are the three basic rules of investing?
Don't lose money.
Remember rule #1.
Make money.
Summary of the topic:
We conclude that: By opening an investment account like "Brokerage" after determining your budget, deciding on a suitable strategy, and managing the portfolio. You can easily buy stocks without fearing losing money and wasting time as a beginner.
Hence, you will no longer be a beginner using all the above steps and considering the tips for investing in a stock market.