5 Things To Know Before Choosing a Custom Home In 2023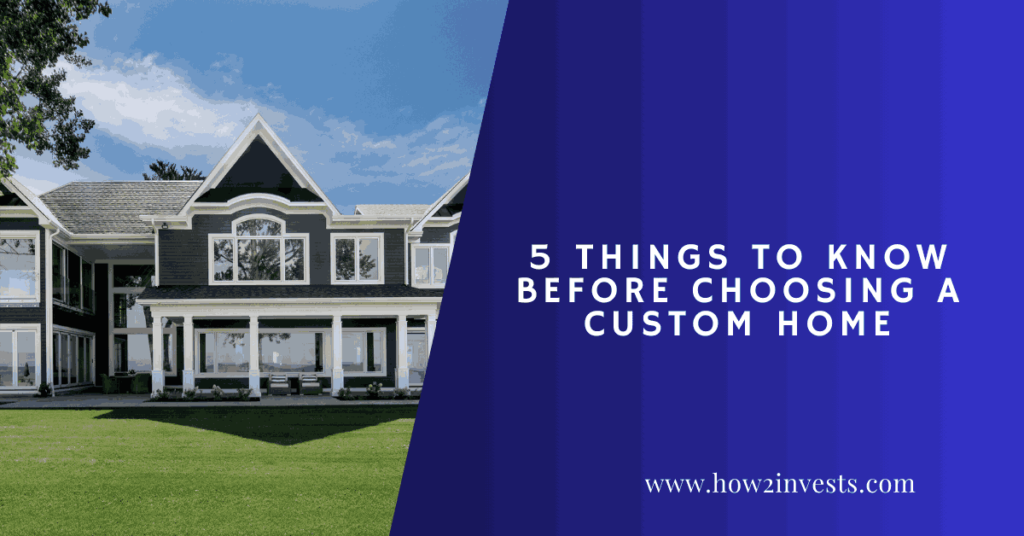 Building a custom home allows you to tailor your living space to your lifestyle and preferences. Building your home can be an exciting adventure that requires extra considerations to avoid challenges.
Knowing what to expect before hiring custom home builders helps you have a smoother home construction experience. Here are five things to know before choosing a custom home:
1. Home's Design
Before you start looking for land to build your home on, share your home design ideas with custom home builders near you and have them draw a plan for your house. Consider your present and future needs when conceptualizing your home's design.
An experienced home builder can estimate how much land you'll need to build your home based on your house plan. They can also estimate your construction costs based on the features you want for your home. A home construction expert can provide suggestions for project details you may have missed, such as sewer requirements and hardware finishes. 
2. Budget
Work with a financial advisor to determine how much you can afford to spend on your custom home. Consider your must-haves and prioritize them when budgeting to build a house that serves your needs. Aside from construction costs, include expenses like permits and interior furnishings in your budget.
Once you have a budget, consult a bank to explore your financing options. If possible, get pre-approval for construction financing before approaching home builders to find a company that can work within your budget. 
3. Location
Consider the neighborhood and proximity to amenities when looking for a location for your home. Review the future development plans of the area to determine if they align with your goals. To avoid building a home on unsuitable land, consider the topography of a site before buying the land.
Check U.S. Geological Survey records to determine the depth of the water table in your desired locations. Building your home on land with a high water table puts you at risk for an unstable home and water damage to your foundation.
If you are interested in building a solar-powered house, look for locations that receive adequate sunlight all year. 
4. Permits and Regulations
Custom home construction must comply with loal building codes and municipality regulations. Take the time to research and understand all requirements that may affect your construction project before beginning to avoid delays caused by non-compliance. Work with a professional home builder who can help you secure all required permits before construction begins.
5. Who To Hire
Research and interview local construction companies to find a suitable home builder. Check each builder's portfolio and review their work's quality. You can also visit prospective builders' current construction sites to observe their work process. Hire builders who communicate effectively and are transparent about costs and project timelines.
Hire Experienced Custom Home Builders
Building a custom house allows you to create a home with all your desired features and amenities. A clear understanding of your home's design, the ideal location, budget, and required permits helps you make informed decisions regarding your construction project.
This can also help you find experienced custom home builders who will help you navigate the process of your home construction. Contact a custom home building company today to learn more about the construction process.